A slip and fall is a type of personal injury wherein a person either slips, trips, or falls due to dangerous conditions on the property of another. Some personal injury attorneys refer to this type of incident collective as a slip, trip, and fall injury. Semantics aside, the results are the same: a person is injured due to the negligence of another.
Slip and fall victims can have a variety of medical conditions as a result of a bad fall. Back injuries can be an especially common and lingering condition of an unfortunate slip and fall. As a Long Island personal injury lawyer, Stephanie Ovadia has seen almost any conceivable type of injury that has resulted from a slip, trip, or fall. She understands that not only can a slip and fall victim have costly medical expenses, but there is pain and suffering and the possibility of lost wages. If you or a loved one has been injured by a slip and fall accident, consider contacting the Law Office of Stephanie G. Ovadia for a free consultation.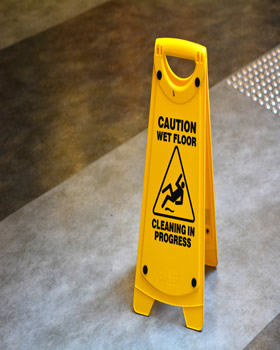 Slip & Fall Law: An Overview
Slip and fall lawsuits are civil legal actions. In the context of personal injury matters, slip and falls are a type of premise liability claim where it is alleged that a person's slip, trip, or fall is the result of one or more person or entities' negligence. This means that an unsafe condition giving rise to a person's slip and fall was not intentional, but the result of carelessness or recklessness.
New York law "imposes a duty to maintain property free and clear of dangerous and defective conditions only upon those who own, occupy, or control property, or who put the property to a special use or derive a special benefit from it." (Segura v.City of New York, 70 AD3d 670, 892 NYS2d 870 [2d Dept 2010], quoting Guzov v. Manor Lodge Hodling Corp., 13 AD3d 482, 483, 787 NYS2d 84 [2d Dept. 2004]). "Where none of these factors are present, a party cannot be held liable for injuries caused by the allegedly defective condition" (Gover v. Mastic Beach Prop. Owners Assn., 57 AD3d 729, 730, 869 N.Y.S.2d 593 [2d Dept. 2008]).
To demonstrate liability in a slip and fall case that resulted from negligence, a person must show the defendant(s) either (i) created the condition which caused the accident or (ii) had actual or constructive notice of the condition. (Goldman v. Waldbaum, Inc., 248 AD 2d 436, 437 [2d Dept. 1998], citing Bradish v. Tank Tech Corp., 216 A.D.2d 505, 506 [1995]). In a great deal of slip and fall cases, a critical issue is the existence of constructive notice.
For a party to be imputed with constructive notice, "a dangerous condition must be visible and apparent, and it must exist for a sufficient length of time prior to the accident to permit the defendant to discover and remedy the condition." (Deopsomer v. Agawani Int'l, Inc., 2011 NY Slip Op 33773(U) [Sup. Ct. N.Y. Ctny. 2011], citing Gordon v. Am. Museum of Natural History, 67 NY 2d 836, 837-838 [1986]). A general awareness that a dangerous condition may exist is legally insufficient to impose constructive notice on a party. (Piacquadio v. Recine Realty Corp., 84 N.Y.2d 967, 969 [1994]).
Slip, Trip, and Fall Accidents
A slipping accident occurs when a person's experiences a sudden or involuntary sliding action to his or her heel due to ineffective traction or friction with a walking surface, which causes a loss of balance.
A tripping accident occurs when a person's center of gravity is displaced during movement, often by a misstep or a foot's collision with an object, resulting in a fall.
A falling accident occurs when a person moves downward, typically due to a loss of balance. Falling accidents can be categorized as either same-level falls and multi-level falls. Same-level falls often involve a person's loss of balance due to a slip or trip. A multi-level fall involves drop in elevation. Depending upon the elevation and situation involved, a multi-level fall may result in a wrongful death.
Common reasons for slip, trip, and fall accidents include:
Ice and Snow. A classic example of a slip and fall accident occurs in cold weather, when icy conditions result in slippery surfaces. Property owners are obligated to maintain their property, but are afforded a reasonable amount of time for snow and ice removal.
Wet floors. A slick floor due to split liquids or improper drying is a common cause of slip and fall injuries. This type of accident can help in a variety of settings, from a local grocery store to your work's office building.
Uneven pavement. Uneven pavement, particularly on a sidewalk, can present trip and fall scenarios quite easily. Tree root growth, for example, can make very uneven sidewalks for pedestrians to use.
Dangerous Stairwells. There are a variety of factors that may cause a fall down stairs. A dimly lit stairwell is unfortunately common cause of a trip and fall accident, particularly in large apartment buildings. Defective, missing, or non-sturdy handrails can also be a reason why a person falls down a stairwell. Other reasons include debris and slippery conditions caused by liquids.
Slip, Trip, and Fall Statistics
Accidents caused by slipping, tripping, or falling are an unfortunately common occurrence in the United States. According to an Agency for Healthcare Research and Quality study, injuries resulting from falls were the most commonly treated type of injury in Emergency Departments in 2010. In the workplace, there were 793 fatal falls, slips, and trips in the United States in 2014, up from 724 in 2013.
The statistics available indicate that the elderly are not only at a higher risk of suffering an accident of this type, but often receive more severe injuries. According to the Centers for Disease Control and Prevention, one in three older people – aged 65 and older – falls each year. Twenty percent of falls by older people cause a serious injury, such as broken bones or a head injury. Approximately 2.5 million older people are treated each tear in emergency departments for injuries resulting from falls.
Things to Do after Suffering a Slip and Fall Accident
After suffering a slip and fall accident, it is important to maintain and preserve evidence. People tend to believe that a serious injury caused by a slip, trip, or fall speaks for itself. While medical records are important for documenting the existence and severity of an injury, they do not, by themselves, prove legal liability. A lack of evidence can seriously impact an otherwise valid slip and fall lawsuit. The following actions are critical for building a case for liability in a slip and fall legal action:
Make a Report. Contact the appropriate channel to make a report of the slip, trip or fall accident. If an accident occurs in a store, this typically involves having an incident report filed by with the appropriate business manager. If an accident occurs in an apartment, this may mean filing a report with the landlord directly or with the applicable management company.
Take Photos. A slippery floor or an icy surface will typically be long gone by the time a lawsuit, if any, is filed for slip, trip and fall accidents. In years past, it was difficult for people to document such dangerous conditions. Now that cell-phone cameras are common in society, this is less of a burden. Pictures should be taken of the entire scene, with a particular emphasis on the exact location of the accident.
Isolate Your Clothing / Footwear. The clothing and footwear worn during a slip, trip, and fall may be valuable evidence. Isolate the items worn that day so they may not be altered or damaged. If a slip and fall attorney is retained, they may request these items.
Collect Pertinent Information. Obtaining the telephone numbers, addresses, and names of any witnesses to a slip, trip, and fall accident are important for corroboration purposes. Additionally, obtaining information related to the location of an accident or ownership of the property is helpful.
Consult an Attorney Quickly. Consulting with an attorney earlier, rather than later, is critical. A slip and fall attorney should know how to investigate a slip, trip, and fall accident and have relevant evidence, if any exists, maintained. At the Law Office of Stephanie G. Ovadia, we offer free consultations for victims of slip, trip, and fall accidents.