Long Island, like any other area, is susceptible to false arrests. A false arrest occurs when a person is unlawfully restrained without legal justification. It is a violation of both federal and state law to falsely arrest a person. False arrests claims often result from alleged police officer misconduct. This may result in criminal charges, which must be defended against, sometimes at significant legal expense.
One common misconception about false arrests lawsuits is that only the police may be subject to false arrest claims. While many false arrests claims are brought against police officers, non-police officers may also commit a false arrest. In either case, it is critical to seek legal opinion soon after a false arrest is believed to be committed. Important deadlines and/or critical evidence may be lost by waiting to have a claim evaluated.
If you or a loved one has been the victim of a false arrest, consider a free consultation with the Law Office of Stephanie G. Ovadia. Stephanie Ovadia has more than 30 years of personal injury experience, including service as a false arrest lawyer and handling claims against police departments and other entities on Long Island and in New York City.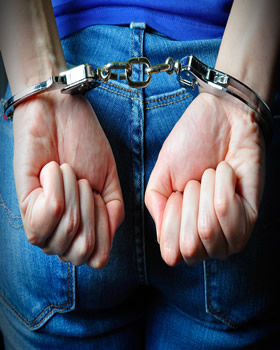 False Arrests
False arrest or false imprisonment claims require a showing that (1) the defendant intended to confine the person, (2) the person was conscious of the confinement, (3) the person did not consent to the confinement and (4) the confinement was not otherwise privileged. (Martinez v. City of Schenectady, 97 N.Y.2d 78, 85 [2001]).
Probable cause is a justification for, and a complete defense to, a claim for false arrest and imprisonment under both § 1983 and New York law. (Swindell v. N.Y.S. Dept. of Environ. Con., 371 F. Supp. 2d 172, 179 [N.D.N.Y. 2005]). Probable cause generally exists "when the officers have knowledge or reasonably trustworthy information of facts and circumstances that are sufficient to warrant a person of reasonable caution in the belief that the person to be arrested has committed or is committing a crime." (Weyant v. Okst, 101 F. 3d 845, 852 [2d Cir. 1996]).
Confinement may be privilege for a variety of reasons, such as police acting pursuant to an arrest warrant or a merchant acting under the shopkeeper's privilege (codified in General Business Law, Section 218).
False arrest and false imprisonment claims accrue when a person is released from physical custody or confinement. (Bumbury v. City of New York, 62 AD3d 621-622 [1st Dept 2009]).
Depending on the facts at hand, false arrest claims may be coupled with a variety of legal claims. This may include malicious prosecutions claims, section 1983 violations, assault/battery, and other claims. New York does not recognize claims for the negligent or malicious investigation of a criminal case. (Johnson v. Kings Ctny. Dist. Atty's Off., 308 AD 2d 278, 284-285 [2d Dept. 2003]).
Malicious Prosecution
A malicious prosecution claim occurs when legal proceedings are brought against someone for a wrongful purpose. A malicious prosecution claim requires (1) the initiation of a proceeding, (2) its termination favorably to plaintiff, (3) lack of probable cause, and (4) malice. (Colon v. City of New York, 60 NY 2d 78, 82 [1983]).
A cause of action for malicious prosecution accrues when the criminal proceeding terminates favorably to the plaintiff. (Bumbury v. City of New York, 62 AD3d 621 [1st Dept 2009]). Proceedings are "terminated in favor of the accused" only when their final disposition is such as to indicate the accused is not guilty. (Singleton v. City of New York, 632 F. 2d 185, 193 [2d Cir. 1980] citing Restatement (Second) of Torts § 660, Comments a & b [1977]). This means that alternative remedies that leave open the question of an accused's guilt, such as an adjournment in contemplation of dismissal, do not satisfy this requirement. (see Hollender v. Trump ViL Coop., 58 NY 2d 420, 423 [1983] (holding an adjournment in contemplation of dismissal bars subsequent claims of malicious prosecution, but not false imprisonment). The date a cause of action for malicious prosecution accrues may not be the same date a false arrest claim accrues.
Probable cause consists of such facts and circumstances as would lead a reasonably prudent person in like circumstances to believe plaintiff guilty. (Id.) It is dependent on the particular facts and circumstances involved. A grand jury indictment creates a presumption of probable cause, which may be overcome by a demonstration of bad faith such as the falsification or misrepresentation of evidence. (See Kalika v. Stern, 911 F. Supp. 594, 601 [E.D.N.Y. 1995]).
As the New York Court of Appeals noted in Nardelli v. Stamberg, 44 NY 2d 500, 502-503 [1978]: "[t]he "actual malice" element of a malicious prosecution action does not require a plaintiff to prove that the defendant was motivated by spite or hatred, although it will of course be satisfied by such proof. Rather, it means that the defendant must have commenced the prior criminal proceeding due to a wrong or improper motive, something other than a desire to see the ends of justice served." Malice may be presumed where probable cause was lack or there is proof of the defendant's reckless or grossly negligent conduct. (Boose v. City of Rochester, 71 AD 2d 59, 70 [4th Dept. 1979])("[I]t is difficult to conceive how a prosecution initiated without probable cause could be initiated with any other than bad motives.").
It is well-settled law that prosecutors are immune from civil liability for initiating prosecution and presenting the State's case. (Imbler v Pachtman, 424 US 409, 430-431 [1976]). Accordingly, most malicious prosecution claims are not brought against individual prosecutors simply performing their job function.
Section 1983 Violations
42 USC § 1983 states, in pertinent part:
"Every person who, under color of any statute, ordinance, regulation, custom, or usage, of any State or Territory or the District of Columbia, subjects, or causes to be subjected, any citizen of the United States or other person within the jurisdiction thereof to the deprivation of any rights, privileges, or immunities secured by the Constitution and laws, shall be liable to the party injured in an action at law, suit in equity, or other proper proceeding for redress…"
"In order to prevail on a claim under § 1983, a plaintiff must establish the violation of a right secured by the Constitution and laws of the United States, and that the violation was committed by a person acting under color of state law. (See West v. Atkins, 487 U.S. 42, 48, 108 S.Ct. 2250, 2254-55, 101 L.Ed.2d 40 [1988]). A claim for false arrest or imprisonment, brought pursuant to § 1983 for violation of the Fourth Amendment right to be free from unreasonable seizures, is substantially the same as such a claim brought pursuant to state law. (see Jocks v. Tavernier, 316 F.3d 128, 134 (2d Cir.2003) (internal citations and quotations omitted)"; Swindell v. N.Y.S. Dept. of Environ. Con., 371 F. Supp. 2d 172, 179 [N.D.N.Y. 2005]).
Municipalities may be held responsible under § 1983 when constitutional violations have been committed pursuant to an official policy or custom. (Monell v. Dept. of Social Services, 436 U.S. 658, 690-91 [1978]).