Long Island is a great place to ride a bicycle, given its vast array of connecting roadways and geological features. Nevertheless, bicyclists face unique challenges on Long Island, from having to share often congested roadways with significantly larger cars, trucks, and other vehicles and having to navigate numerous road hazards, such as potholes.
In 2014 alone, New York saw 5,647 bicyclists injured and 47 bicyclists fatalities due to accidents, according to the New York Department of Motor Vehicles. When a bicyclist is injured, the results can be devastating and long lasting for not only the bicyclist, but his or her family as well.
Hiring a bicycle accident lawyer may not be on a person's mind when he or she suffers a bicycle related injury. But waiting too long to obtain a Long Island bicycle attorney may result in a compromised legal claim. Therefore, it is critical for bicycle lawyer evaluate a bicycle injury soon after an injury occurs. If an injury caused by a bicycle accident has impacted the life of you or a loved one, contact the Law Office of Stephanie G. Ovadia today for a free consultation. Our legal team of bicycle accident lawyers can evaluate your legal rights while you or your loved one focus on recovery.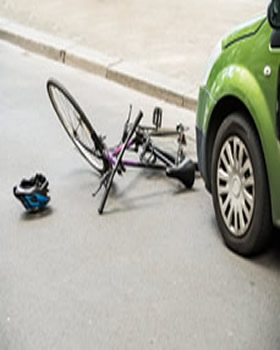 Bicycle Accidents: An Overview
Bicycle accident cases generally fall into two distinct categories: vehicles and road defects. In vehicle related bicycle accidents, where a bicyclist is struck by a car, truck, or other motor vehicle, there tends to be a variety of insurance and Department of Motor Vehicle related matters that require handling. In road defect related bicycle accidents, where a Bicyclist is injured due road conditions such as uneven pavement or pot holes, certain municipal laws may require attention or a person's legal claim may be jeopardized. Whatever the type of bicycle accident case at hand, retaining the services of a bicycle injury lawyer soon after an injury occurs should be considered as certain legal rights may be lost by waiting.
Vehicle Related Bicycle Accidents
Long Island suffers from an unfortunately high number of bicycle related accidents compared to New York City and other metropolitan areas. Common ways that motor vehicles strike bicyclists include failing to see a bicyclist in a cross-walk while turning, opening a car door without looking, and disobeying traffic control devices such as stop-signs and red lights. Right turns for motor vehicles are a particularly common cause of bicycle accidents, as it may be difficult for a driver to either see a bicyclist or accurately judge a bicyclist's speed and distance as it approaches a cross-walk. Although often feared by bicyclists, rear-end collisions are a rare cause of injuries. It is more likely for bicyclist to be injured by riding the wrong way against traffic than by riding with traffic.
There are typically two types of insurance claims typically involved when a bicyclist is hit by a car or other motor vehicle: (i) a no fault claim and (ii) a liability claim.
Bicyclists injured in a motor vehicle accident that occurred in New York are typically covered by No Fault insurance. The No Fault carrier in bicycle injury matters is the insurance company of the motor vehicle that came into contact with the bicyclist. In traditional accidents involving two motor vehicles, the no fault carrier is the insurance company for the respective motor vehicle. Under New York law, a bicyclist has 30 days from the date of the accident to file a claim with the no fault carrier. Failing to do so within the 30 day period may result in a denial of the claim.
Liability claims are also handled by the motor vehicle's insurance company. Liability insurance is essentially insurance coverage against legal claims that resulted from bodily injury or damage. A liability claim, unlike a No Fault claim, occurs when the motor vehicle driver is an at-fault party. A bicycle accident attorney may be able to negotiate a settlement with the liability adjuster. If a settlement cannot be negotiated, a bicycle injury lawyer may advise initiating a lawsuit where a serious injury can be demonstrated.
Road Defect Related Bicycle Injuries
Road defects, such pot holes and road conditions caused by poorly maintained roadways, are a major cause of bicycle-related injuries. From a legal perspective, road defects are treated as a premise liability type matter. The pavement that causes a bicyclists injury may be owned by a municipality or privately owned.
The maintenance of most roads are in the charge of municipalities. It is the duty of municipalities to ensure that these roadways are in good repair and safe for all users. Determining the municipality with jurisdiction over a specific roadway, however can be a difficult task. On Long Island, where numerous villages and hamlets exist, determining the correct municipal entity with jurisdiction can be a particularly challenging affair.
Under New York law, a notice of claim must be filed within 90 days of the occurrence of a bicycle accident where a municipality may be liable. This is a condition precedent for filing a lawsuit against a municipality. Failing to give notice in this time may significantly jeopardize an otherwise valid legal claim. A worse scenario is failing to give proper notice to the correct municipal entity, which also may result in a jeopardized claim.
Aside from notices of claim, municipalities are also afforded other legal tools during the litigation process. Often, one especially important aspect of litigating a bicycle injury case against a municipality is the issue of prior written notice. A prior written notice law requires a municipality to have properly received notice of a defective roadway before the municipality may be held liable. Important exceptions to this requirement exist when (i) the municipality affirmatively creates the hazard, (ii) the municipality derives a special use, or (iii) the municipality has constructive notice pursuant to Highway Law § 139(2). When a bicycle accident case is litigated against a municipality, the issue of prior written notice and the existence of any exception are often hotly contested.
Other road hazard related bicycle accidents occur on areas that are entirely privately owned, such as poorly maintained parking lots. If an investigation reveals private ownership, there may be insurance coverage for this the bicycling accident. Private owners, unlike municipalities, do not receive the same special litigation considerations as a municipality. There is no notice of claim requirement for private land owners. Also, the issue of prior written notice is not an aspect of litigation when a municipality is not involved.