Medical malpractice is when a doctor or other health care professional acts in a negligent manner that deviates or departs from accepted practice. People expect health care professionals to work in a professional matter. When they do not, the results can be catastrophic.
The violation of accepted standards can occur in a variety of circumstances. For example, medical malpractice might occur by failing to diagnosis a condition, the prescription of improper medication, or an error during surgery. Any one of these situations can lead to significant and life-altering conditions.
At the Law Office of Stephanie G. Ovadia, we evaluate all forms of medical malpractice cases. We promptly review medical malpractice cases and provide free consultations for all potential medical malpractice matters. When a doctor's negligence causes injury to you or a loved one, consider contacting the Law Office of Stephanie G. Ovadia for a free consultation.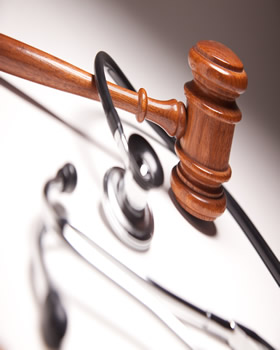 Medical Malpractice
In a medical malpractice action, it must be shown that there was (i) a deviation or departure from accepted practice and (ii) evidence that such departure was a proximate cause of injury or damage. (Holton v. Sprain Brook Manor Nursing Home, 253 A.D.2d 852 [2d Dept. 1988]). Proximate causation may be shown by offering sufficient evidence from which a reasonable person might conclude that it was more probable than not that the injury was caused by the defendant. (Id.). In general, medical malpractice cases require expert testimony.
New York law generally requires that when a medical, dental, and podiatric malpractice actions is brought by an attorney, a certificate of merit accompany the legal complaint. This requirement, found in CPLR 3012-a, requires the medical malpractice attorney to review the facts of the case and consult with at least one duly licensed physician that the medical malpractice lawyer believes is knowledgeable in the relevant matter and conclude there is a reasonable basis for the malpractice action. Certain exceptions apply, such as when an attorney intends to rely solely on the doctrine of res ipsa loquitur.
As noted in Abraham v. Dulit, 255 A.D. 2d 345 [2d Dept. 1998], it is a general rule that "a hospital may not be held vicariously liable for the malpractice of a private attending physician who is not an employee of the hospital. However, an exception to this rule exists where the patient enters the hospital through the emergency room seeking treatment from the hospital and not from a particular physician of the patient's choosing." (citations omitted).
In New York malpractice matters, a person typically has 2 ½ years from the date of the alleged negligent act or omission to file lawsuit. Certain situations may delay or "toll" this statute of limitation. For example, if the medical malpractice occurred as part of a continuing course of treatment, the 2 ½ year time line does not begin to run until the treatment has concluded. In cases where a foreign object is left inside a person's body, such as a sponge, the statute of limitations does not begin to run until the object was discovered or facts were discovered that would lead a reasonable person to such a discovery.
The statute of limitations should not be confused with the time to file a notice of claim. In certain medical malpractice cases where a hospital may be liable, a notice of claim may need to be filed. Where a hospital is owned by a municipal corporation and may be liable for medical malpractice, a notice of claim must be filed within 90 days from the date the cause of action accrues. This deadline is much shorter than the statute of limitations and a reason it may be critical to consult with a medical malpractice attorney as soon as possible.
Medical Malpractice Statistics
As noted in the Court Statistics Project, a 1999 estimate by the Institute of Medicine noted that preventable medical errors in hospitals kill between 44,000 and 98,000 Americans each year—more than motor vehicle accidents, breast cancer, or AIDS. But medical malpractice claims are rare in comparison to other legal claims. In 2005, the Bureau of Justice Statistics estimated 2,449 medical malpractice cases were disposed of by bench or jury trial in state courts of general jurisdiction throughout the country and a jury decided about 99% of these trials.
Common Types of Medical Malpractice
Medical malpractice cases can take a variety of forms. Some of the most common types of medical malpractice are the following:
Misdiagnosis. Obtaining a proper diagnosis of a medical condition is important for treatment. Being diagnosis with the wrong medical condition may result in improper course of treatment and a worsening of the underlying condition.
Prescription Errors. The wrong medication may result in variety of problems, including a worsening of a person's medical condition.
Failure to Diagnosis. A diagnosis is an important step in dealing with any medical condition. For certain conditions, a delay in obtaining a diagnosis can have devastating consequences such as worse prognosis.
Surgical Errors. Surgical mishaps may result in profound and life-altering consequences. Even a simple mistake may have profound results.